Originally this was going to be a guest post, but the universe conspired against me and the hosting blog, so it is here. I'm disappointed, but it may happen another time...universe willing.
I've been
hinting
and
teasing
that something awesome happened. Now that I have a moment, I'll tell you about it.
For those of you following my escapades, I attended the
2013 RT Convention
and got to
hang
with
Louis Fury
for part of it. I also mentioned that I got to read entries at a competition. The competition in question was the
American Idol Writing Competition
. It started Thursday and ended on Friday.
But it gets better.
I was also an entrant. Now before you freak out. None of the slush-pile readers, nor the judges, knew anybody's name. Also, I wasn't a slush-pile reader. I read at the finals on Friday, out loud, to a room full of hopeful authors and a panel of judges.
To say it was an amazing experience is putting it lightly.
Let's rewind to Thursday. Thursday was the announcement of the twenty finalists (out of 80 entries). I assumed I didn't have a prayer. I was at a writing convention and I submitted the beginning of my novel. And there were 80 other people in the competition. Some of them were self-pubbed. Still, I sate with a couple good friends and tried not to have a heart attack as they read Title and Genre. (no author names...anonymous...remember?) of each of the 20 finalists. They tried to represent each genre present. YA, MG, Historical, Erotica, etc. Each one got a number. Then it happened.
"Hate Jacket, YA4"
I was stunned. Seriously. Stunned. I'd entered competitions before and never been selected. I couldn't believe it.
I was all
I went home that night, printed off ten copies of my novel to be read live at the finals. I tried to sleep. It didn't happen. The day was a blur. I tried to distract myself with various activities. I attended an award ceremony and ran into
Gretchen McNeil
while wearing my 3:59 t-shirt.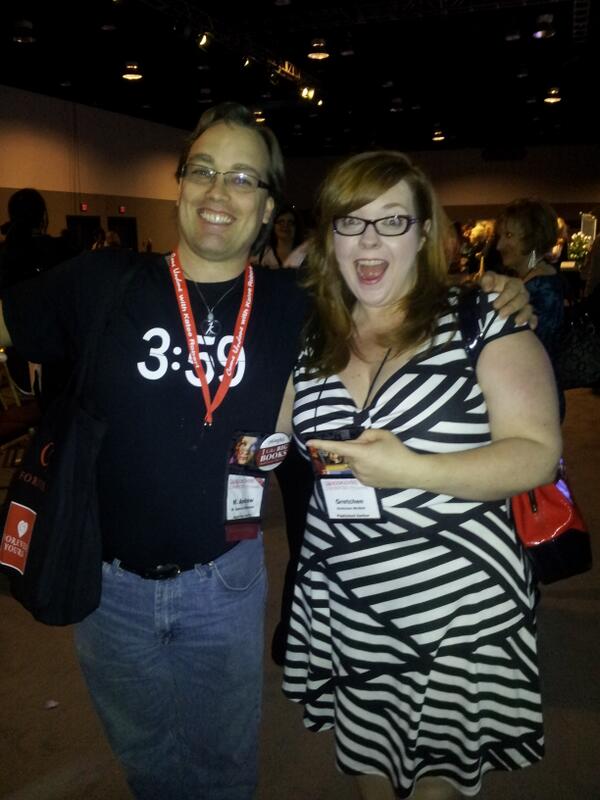 I attended a panel on fighting techniques for heroines, taught by a 4th degree black belt and her husband (also a 4th degree black belt). It was awesome. I attended
Pitch-a-palooza
and pitched (or attempted to pitch) to a couple people. I also cheered on a couple of my friends.
Anyway...Friday...5 pm. We all gather in a room. At the front we had the judges:
Alicia Condon, Kensington
Louise Fury, L. Perkins Agency
Sue Grimshaw, Ballantine/Loveswept
Leah Hultenschmidt, Sourcebooks
Liz Pelletier, Entangled
Lori Perkins, Riverdale Ave Books
Nicole Resciniti, The Seymour Agency
Whitney Ross, Tor
Tessa Woodward, Avon
The entries were read out loud (by me and others) one at a time and the judges commented verbally and scored each one. Sometimes one of the panelists would speak up and say "I want this".
There were some seriously awesome entries. I knew I didn't have a prayer of winning. I just hopped that one of the editors would want to read it. It took longer than anyone thought, reading all 20 entries, but eventually it would get done.
When mine was read (not by me, thankfully). Two of the judges surprised me by saying, "I want this." <insert Joey shocked face>
We took a short break and the scores were tallied...
I didn't win. That honor goes to a story titled "What the Fae". I wasn't upset. It was an awesome story. The judges and spectators loved it. Keep your eye out because that book will get published. I can feel it.
However, even though I didn't win, I did come in as a runner up (and yes, I was wearing my 3:59 t-shirt in the photos. If I ever get them, I'll post them).
So, here is what I "won". I won a mentorship with one of the amazing agents there (the winner got a mentorship with both!). I also walked away with three requests for my novel. I haven't sent it too the requesting editors yet because my mentor now has Hate Jacket and will hopefully love it as much as my betas and my CP have. And maybe, just maybe, I'll get published. We'll see. I'm in an amazing place right now and I couldn't be happier coming in as runner-up.
I'd also like to make a shout-out to my friend
Karen Bynum.
Her novel "Becoming" came in as the other runner-up. She got several requests and the other agent. There was another winner, but I can't remember the title. Hell, I can barely remember the evening.
So thank you to Louise and Nicole for setting up this wonderful opportunity and thank you to the judges who took time out of their schedule to sit and listen and critique.
'Till Next Time